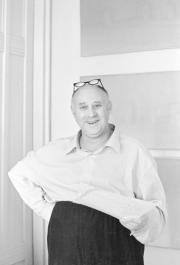 7 June 1924, Moscow—1 January 1985, Moscow
As a young man in 1939, Veisberg met Ilya Mashkov, an artist of the Jack of Diamonds group and former Fauvist; they met frequently in Abramtsevo, a summer resort area for artists. He was heavily wounded during World War II and could only attend the Surikov Art Institute as an auditor. He studied in the studio of visual art with Sergei Musatov-Ivashov from 1944 to 1948, and in the late 1940s he also attended the studio of Alexander Osmerkin. Thus he received the traditions of pre-Stalin art directly from his teachers, artists of the pre-Soviet period.
Vladimir Veisberg influenced many artists of his time. He taught painting during 1959-1984 at the studio for improving qualifications at the Union of Architects USSR, known in Moscow intelligentsia circles as "Veisberg's school." In 1969 he joined the Union of Artists USSR. He participated in exhibitions in Russia (from 1961) and abroad. He was involved in scholarly research in color theory and developed his own concept, based on the psychology of creativity and perception of art. In 1962 he gave a lecture on his color theory at the Symposium on the Structural Study of Sign systems, after which he and the symposium organizers suffered repressions from the authorities.
"Studying contemporary painting, I came to the conclusion that the issues of colorism in the form in which they existed after Cézanne have been exhausted. I began to realize that color that is not saturated with valeur (half tones) is not informative," wrote Veisberg.
He was one of the greatest masters of the metaphysical still life. Veisberg spent his lifetime perfect his painting manner. He began with fully conventional portraits and still lifes, but over time he limited his themes to a selection of simple geometric figures (cones, cubes, spheres, and pyramids) and reduced color contrasts to the absolute minimum, replacing them with a subtle, almost phosphorescent tonal milieu. His works toward the end of his life approached the ideal of "invisible painting," "white on white," and the objects of his painting lost their materiality and the act of painting turned into the result of refined meditation.