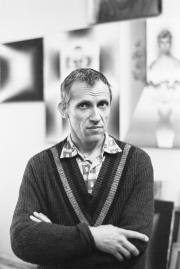 4 November 1931, Moscow - 26 January 2013, New York
Vassiliev studied at the Moscow Middle Art School in 1947-1952 with Erik Bulatov and Ilya Kabakov and then went on to the Surikov Moscow Art Institute (1952-1958). In the late 1950s he often visited the studios of Robert Falk and Vladimir Favorsky. Vassiliev started illustrating children's book in the 1960s, working with Bulatov, with whom he shared a studio in Chistye Prudy in Moscow. He moved to New York in 1990 and now lives and works in Minneapolis.
In Soviet times, Vassiliev did not exhibit except for a one-day show at the Blue Bird Café in 1968. After he emigrated, Vassiliev primarily exhibited in private galleries in America and Europe. His first retrospective show in Russia was in held in 2004 at the Tretyakov Gallery in Moscow and the Russian Museum in St. Petersburg. The Faggionato Fine Art Gallery in London exhibited his works in 2009. His works are in the Tretyakov Gallery and the Pushkin Museum in Moscow, the Russian Museum in St. Petersburg, the Zimmerli Art Museum at Rutgers, and other collections.
Vassiliev is one of the unofficial Moscow artists interested in a painting's structure and organization. He worked on the problem of the interrelationship of space and surface of the painting and their mutual tension in 1965-1968. Believing the traditions of Russian realistic painting of the nineteenth century to be unsurpassed but still working from the new modernist understanding of the painting ("An energetically charged rectangle of figurative surface," as he defined it), he tried to separate realistic substance from ideological didacticism and combine reality with the surface of the painting, which, as he put it, "resisted all introductions." He did an enormous amount of research on the plastic and semantic possibilities of a picture's plane trying to find a solution to this conflict. Vassiliev's intense experiments on the metaphysics of white space and light in a painting influenced the concept of "white page" in early Kabakov and subsequently the formation of one of the fundamental concepts of the Moscow Conceptualist School, "the cavitated canon."