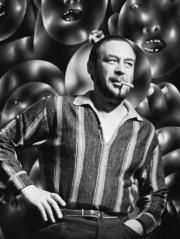 15 July 1934, Moscow Oblast
Tselkov was born into a family of economists working at an aviation plant. From 1949 to 1953, he studied at the Moscow Middle Art School for gifted children. He spent a year at the Minsk Art Institute and another year at the Repin Academy of Arts in Leningrad, expelled from both for ideological reasons. In 1958 he finished his education at the Leningrad Institute of Theater and Film with a diploma as a theater artist and technologist. While still studying in Leningrad, he gained a reputation as the most radical and flamboyant innovator in new Russian art. He was the most famous artist of the contemporary style in the USSR among the intelligentsia. Major poets and writers sought his acquaintance. Tselkov returned to Moscow in 1961. Despite the fact that he quickly turned into one of the most fashionable and best-selling artists, he lived modestly. Tselkov had to work in an apartment that was only slightly larger than his pictures.
His first exhibition was held privately in the Moscow apartment of the abstract painter Vladimir Slepyan. His solo show at the Kurchatov Institute of Atomic Physics in Moscow (1965) was shut down by the KGB two days after it opened. In 1975 he took part in the first officially permitted show of nonconformists at the Beekeeping Pavilion. He emigrated to France in 1977 and was stripped of Soviet citizenship. When the ambassador of the new Russia offered in the 2000s to return his Russian passport, Tselkov refused. His first solo exhibitions at the Russian Museum (St. Petersburg) and the Tretyakov Gallery (Moscow) took place in 2004.
Tselkov's style is distinctive and original, his paintings recognizable at first glance. He acknowledges the influence of the Fauvist period of Pyotr Konchalovsky's work and probably the style of Fernand Léger. Tselkov acquired his own manner in 1958, which has not undergone significant changes since. His paintings form a carpet of rippling large and bright spots of color, some lit from within, others going into shadow. This light and shadow modeling creates a weak spaciousness, resembling rippling on a water surface. Tselkov likes contrasting color combinations in the most strident scales—the clash of violet with lemon, wine red with emerald. The constant theme of his paintings is the man of the crowd, the emanation of the faceless, blind, and naively aggressive masses. Imbued with observations of Soviet reality, it is actually criticism of a global phenomenon that holds for all twentieth-century societies.