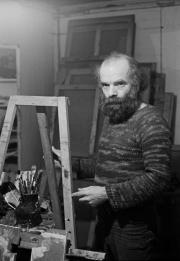 14 August 1931, Moscow—7 July 2004, Paris
Mikhail Roginsky studied at the Perutsky Moscow State Art School, which was shut down for "formalism" and turned into the "Memory of 1905" Moscow Regional Art School, from which he graduated in 1951. He traveled around Russia from 1954 to 1960 working as a designer in provincial theaters. He returned to Moscow in 1960. He taught at the Moscow City Art School on Kropotkinskaya from 1963 to 1969, and then at the Krupskaya Distance Learning People's University of the Arts until 1976. This institution accepted students without entrance exams, so there were naïve artists in the student body. It was also the only art school that permitted criminals in prisons and camps to enroll. Roginsky had many interesting students, including the naïve artist Pavel Leonov, who later gained fame.
In the 1970s, Roginsky together with Orlov and Komar and Melamid organized and participated in a series of apartment exhibitions. He also took part in the exhibit at the Dom Kultury Pavilion at the VDNKh (Economic Achievements Exhibition). In 1978, Roginsky emigrated to France and settled in Paris. The first show in Russia to show a substantial number of his works was in 1993, in the exhibition "Roginsky, Turetsky, Chernyshov" at the Central House of Artists. Roginsky had a solo exhibit at the Tretyakov Gallery in 2002.
Roginsky was an exceptionally prodigious artist, leaving behind a colossal and varied legacy. Upon his return to Moscow in 1960 from the provinces, he concentrated on painting. He painted Moscow courtyards and tramways: he painted them the way he saw them, part of the sad and impoverished reality around him, without trying to pretty it up with art but not overdramatizing it either, as did many of his colleagues. In the mid-1960s he began depicting everyday objects in close up: Primus stove, pot, matches, trousers, the squares of Metlakh tiles used in bathrooms and toilets. Using plywood and actual objects, he modeled fragments of walls in communal flats with doorbells, light switches, and sockets. His "Red Door" (1965) is a epochal work for Russian art. Looking like ready-made, but actually constructed the artist, the door is indistinguishable from an ordinary door in Soviet apartments that was covered in the ordinary red paint used for fire poster stands and slogans. These works were truly the new word in Russian art, the start of Russian Pop Art. Not much later, Roginsky attracted followers among the Sots Art painters, but the artist seemed not to pay attention to his own discovery and quickly moved on to seeking a new painterly style based on the study of Old Masters and the traditions of the Russian paintings of the 1930s. In the period 1967-1978 he painted still lifes in the classic style and small landscapes and bathers (1971-1977) with acrylics on Masonite.
In the early years (1978-1980) of his Paris period he produced a large series of "shelves," modernist "tables" and "grids" filled with objects, sometimes abstract, sometimes quite realistic.
In 1981-1985, Roginsky moved to Parisian landscapes, which were soon replaced by Moscow landscapes done from memory as well as interiors of his Moscow apartment.
In 1985, Roginsky returned to Pop Art, and by then he knew contemporary world art well. He began working with text, creating large canvases with genre scenes painted in oils and with comic book "speech bubbles" for the characters, having extremely ordinary conversations; he also created crudely "daubed" paintings imbued with Soviet poster style, also on domestic themes. In the late 1980s he returned to his favorite theme of the 1960s: depictions of walls and doors, house wares, and reliefs using corrugated cardboard painted with industrial oil-based paints. He worked in this genre until mid-1994.
Roginsky created a series of works on Kraft paper in 1994, combining captions in Russian with Moscow scenes and landscapes on the "given theme." After which Roginsky once again returned to painting with oils on canvas. Until his death, he painted still lifes, portraits and landscapes; the work of this period is distinguished by exquisitely muted keys and radiant tones and simple, often gridlike organization of the composition.