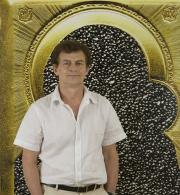 16 April 1943, Moscow
Kosolapov attended the Moscow Middle School of Art between 1950 and 1961. He spent the next period until 1968, with a break for military service, studying in the sculpture department of the Moscow Higher Industrial Art School. At school and college he was friends with Leonid Sokov. Kosolapov belongs to the generation of artists of the turn of the 1960s-1970s who felt it important to work in the context of current international culture. He found a powerful impulse to do his own work by learning about contemporary Western art from magazines in the Library of Foreign Literature and about the Russian avant-garde through illegal visits to the storerooms of the Tretyakov Gallery. He divided his time between his personal art and the commissions from the Union of Artists USSR between 1968 and 1975. He shared a studio with Sokov and Boris Orlov between 1969 and 1971. His first personal show was held in an exhibition space on Kuznetsky Most, Moscow, in 1974. The next year, he moved to New York, where he lives. He began working as the New York representative of the magazine A-Ya in 1980, and the following year joined the editorial board and acted as co-editor until 1986.
Kosolapov started out influenced by Dada and Pop Art, and in 1972 he created a series of Pop objects in the style of Claes Oldenburg. The next year, Komar and Meladid asked him to participate in a group apartment show of Sots Art. The exhibition did not take place, but in the process of getting ready the artists developed a new artistic style built on parodic simulation of the Soviet design language and on combining various styles and cultural clichés. Kosolapov's works made in the US took on a media character. In the project "Lenin Coca-Cola," which started as a series of postcards and became the model for a billboard in Times Square, the artist juxtaposed different symbols—a commercial logo and a canonical profile of the leader of the Russian revolution—both ideological brands within their own systems of worldviews. Kosolapov used the binary opposition of Capitalism-Socialism, USSR-the West, and "high" art-"low" art in later works, as well.
Kosolapov's art career is marked by several censorship attempts. In the USA in 1982, the intervention of the international corporation kept him from fully realizing his Lenin Coca-Cola project (also called "Symbols of the Age"). In Russia during Perestroika, this image and many of his other works were disseminated through souvenir reproductions, T-shirts, posters, and so on. In the post-Perestroika period, several of Kosolapov's works sparked controversies. For example, "This Is My Blood" (2001) was damaged by a religious fanatic at the Art Moscow Fair, and in 2006 "Caviar—Icon" (1989) was taken down from the Russian Pop Art show right after it opened at the Tretyakov Gallery in Moscow.